RLHS Hall of Fame Nominations
The Racine Lutheran High School Hall of Fame recognizes former students, athletes, and faculty members who have shown a commitment to the school's mission and have made outstanding contributions with their God-given gifts. To nominate one of our deserving alumni for induction in our Hall of Fame, please review the criteria and use the nomination form provided. Hall of Fame Nomination Papers. Questions should be directed to Jason Block at 262.637.6538 or by email.
---
Hall of Fame Members
JOHN BLEEKE – FACULTY 1956-1991, PRINCIPAL 1969-1981
John Bleeke was a faithful servant to Racine Lutheran High School for many years. A former Marine, he began his career in Lutheran education as teacher and principal at Redeemer Lutheran School in Denver before arriving in Racine in 1956. He served as an English and social studies teacher, librarian, and yearbook advisor. He was well known for his sense of humor and expertise in teaching writing and grammar. In 1969, he was called to be principal of the school, a position he held for 12 years. During his tenure, the original mortgage was retired and the music room and industrial arts addition was put on the school. In 1981, he returned to the classroom and continued to serve the students at RLHS for an additional 10 years.
INDUCTED 2016
---
RICHARD "Dick" BODE – FACULTY 1965-1997, COACH 1968-1997
Dick Bode has been an important part of Lutheran High's history since he joined the faculty in 1965. During his tenure, Dick taught theology, history, and English. He assumed the positions of Assistant Principal for seven years and Development Director for four years. He served as Interim Principal in 1988. Dick is recognized for his contributions to the Athletic Program of Lutheran High. He was Athletic Director from 1968 to 1982. In 1968, he took over and led the track program for 21 seasons. During that period, the boys track teams won the 1980, 1981, and 1982 WISAA Division 3 state meets. He also served as football coach for 12 seasons, with his final team in 1979 capturing the conference championship and earning the state runner-up title.
INDUCTED 2010
---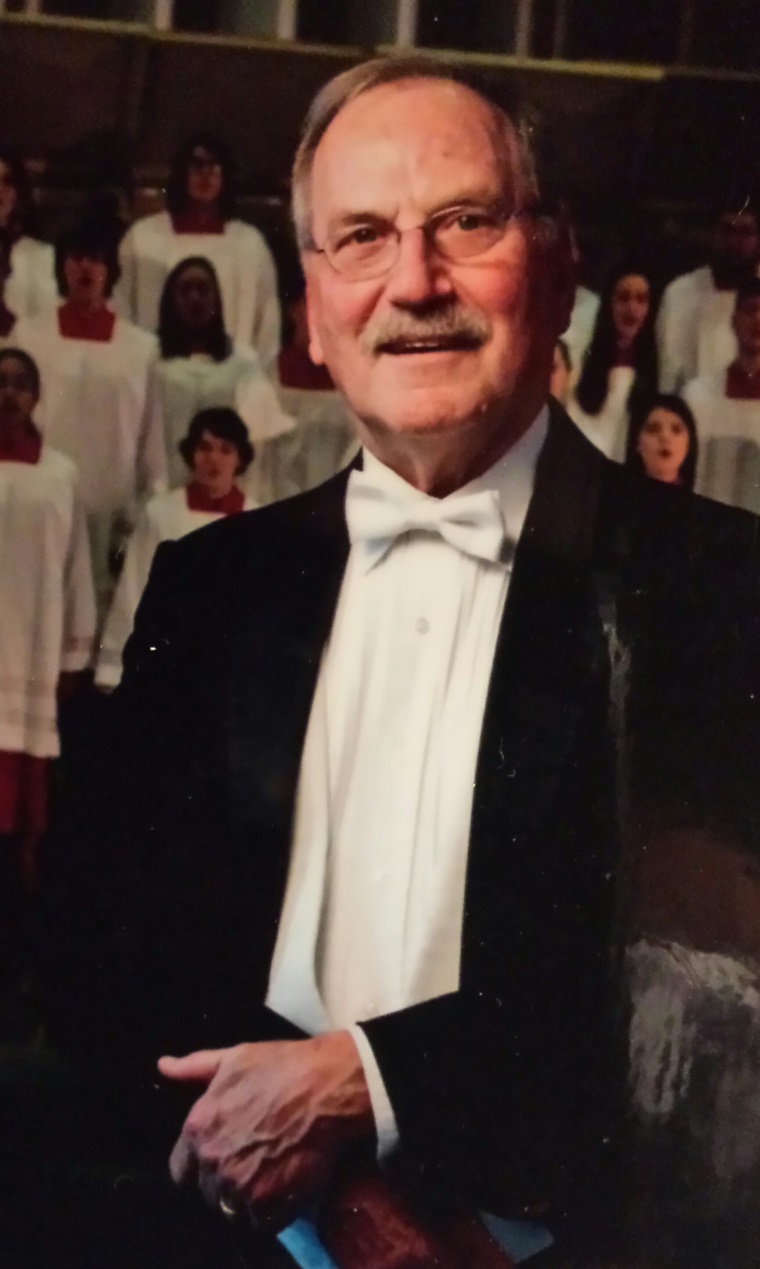 DONALD BUSAROW, Ph.D. – CLASS OF 1952
Donald Busarow attended Concordia, River Forest (now known as Concordia University Chicago or CUC) after his graduation from Racine Lutheran and received a degree in education with an emphasis in music. He began his lifelong service to the church as a teacher and parish musician at Lutheran churches and schools in Detroit and Cleveland for 16 years. He received his master's degree in music from the Cleveland Institute of Music and ultimately a Ph.D. from Michigan State University. He then became a professor at Concordia, Milwaukee (now known as Concordia University Wisconsin or CUW) for three years before moving to Wittenberg University in Ohio in 1975. In 1982, he was appointed the choir director at Wittenberg, a position he held for 28 years. The choir, well-traveled, earned many national and international commendations. Dr. Busarow was noted for his compositions. His works are included in the catalogs of seven publishing houses. He was widely known for his hymn festivals, organ recitals, workshops in choral and organ music and organ design. Dr. Busarow also served as organist and choir director at his home church for many years. He was honored by Concordia, River Forest (CUC) with a Doctor of Letters in 1996 for his many musical achievements. He entered his heavenly home in 2011.
INDUCTED 2017
---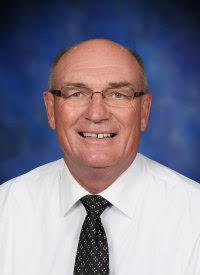 JEFF CHRISTENSEN – CLASS OF 1972, COACH 1981-2021
Jeff Christensen was a three-sport athlete at Racine Lutheran and graduated in 1972. He then
began his long service to RLHS in 1981, joining Willie Eickhorst as an assistant boys basketball
coach. He became head coach in 1988, beginning a 33-year tenure that resulted in 11 conference
championships, 13 regional championships, nine state appearances, and state championships in
1991, 1995, 1996, and 1998. He compiled a 525-266 record, which at the time of induction
ranked him 19 th in wins in Wisconsin high school history. He was named Racine County Coach
of the Year seven times and was inducted into the Wisconsin Basketball Coaches Association
Hall of Fame in 2018. Jeff also served RLHS faithfully in a variety of other roles, including
being on the Board of Trustees, head softball coach, head golf coach, assistant football coach,
assistant girls basketball coach, physical education teacher, study hall supervisor, and working
on summer maintenance. He has also been involved in many fundraising activities for the
school, including serving on the capital campaign board, being chairman of the Ron Naegeli
Memorial Golf Outing, and assisting with the Grand Gala.
INDUCTED 2022
---
KEVIN CHRISTENSEN – CLASS OF 2001, COACH 2005-2021
Kevin Christensen graduated from Lutheran High as the 2001 Male Athlete of the Year for his
accomplishments in basketball and football. He broke 11 school records in basketball, including
being the all-time leading scorer with 1656 points, the all-time assists leader with 403, and the
single game highest scorer with 42. He also broke four school records in football, including
being the all-time leader in receptions and receiving yards. During his freshman basketball
season, his team won the 1998 WISAA Division 2 state championship and he was named to the
all-tournament team. In each of his sophomore, junior, and senior seasons, he was named team
MVP, was first team all-conference, was first team all-county, and gained all-state honors.
During his senior year of football he was also team MVP, first team all-conference, first team all-
county, and named to the all-state team. Kevin was named the basketball conference Player of
the Year in both 2000 and 2001 and Racine County Player of the Year in 2001. Kevin moved on
to Wisconsin Lutheran College where he was named first team all-conference three times. He
finished his career as the third highest all-time scorer and the leader in career assists with 527.
He was inducted into the WLC Hall of Fame in 2016. Kevin returned to his alma mater to be an
assistant coach with his father for 16 seasons.
INDUCTED 2022
---
WILLARD "Willie" EICKHORST– CLASS OF 1959,FACULTY 1963-2003, COACH 1963-1988
Willie Eickhorst graduated from Lutheran High as the 1959 Athlete of the Year for his accomplishments in football, basketball, and baseball. He became the first player to reach the 1,000-points mark in basketball his senior year, a record which held until 1983. Willie returned to Lutheran High to teach four years later, serving as an instructor in biology, health, and physical education. He served as the head basketball coach for 23 seasons. During that tenure, his teams won five conference and four regional championships. In 1975, they earned the WISAA State Championship and were runners-up in 1987. Willie also served as baseball coach for 10 seasons. Those successful teams won three conference championships and the 1972 WISAA State runner-up title. Throughout his career, Willie also served as head track coach, head tennis coach, and assistant coach for football.
INDUCTED 2010
---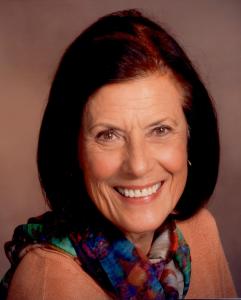 DR. DOROTHY JEHN FOWLES – CLASS OF 1957
Dr. Dorothy Fowles graduated as class valedictorian. She was involved in activities such as choir, service club, drama, the girls athletic association, and the school newspaper. She went to Northwestern University and graduated in 1961 with an art degree. She then earned her master's degree in interior design from Cornell University in 1964. She received her Ph.D. in interior design from the University of Missouri in 1979. After teaching at the University of Oklahoma and the University of Iowa, Dr. Fowles joined the faculty of Iowa State University in 1980 where she was a professor of interior design for undergraduate and graduate students. She was granted Professor Emeritus status in 2008. Throughout her career Dr. Fowles provided dedication, contributions, and service to interior design education and the interior design profession. She was a champion for helping students and other educators understand their responsibility to design with the health, safety, and welfare of people as the chief concern through the promotion of universal design. She also showed dedication to integrating sustainable design to responsibly manage our God-given world. Dr. Fowles had a significant impact to the field of interior design, serving on various professional committees, and being published in numerous professional journals and texts. She presented papers and conducted workshops over many years in more than 30 states and internationally. She made significant contributions to the body of knowledge in her field. She won numerous awards, including the Educator of Distinction Award of the Interior Design Educators Council in 2013. She has served her Lord by using her talents to contribute her interior and lighting design expertise as a pro-bono consultant to four Lutheran churches where she has been an active member.
INDUCTED 2019
---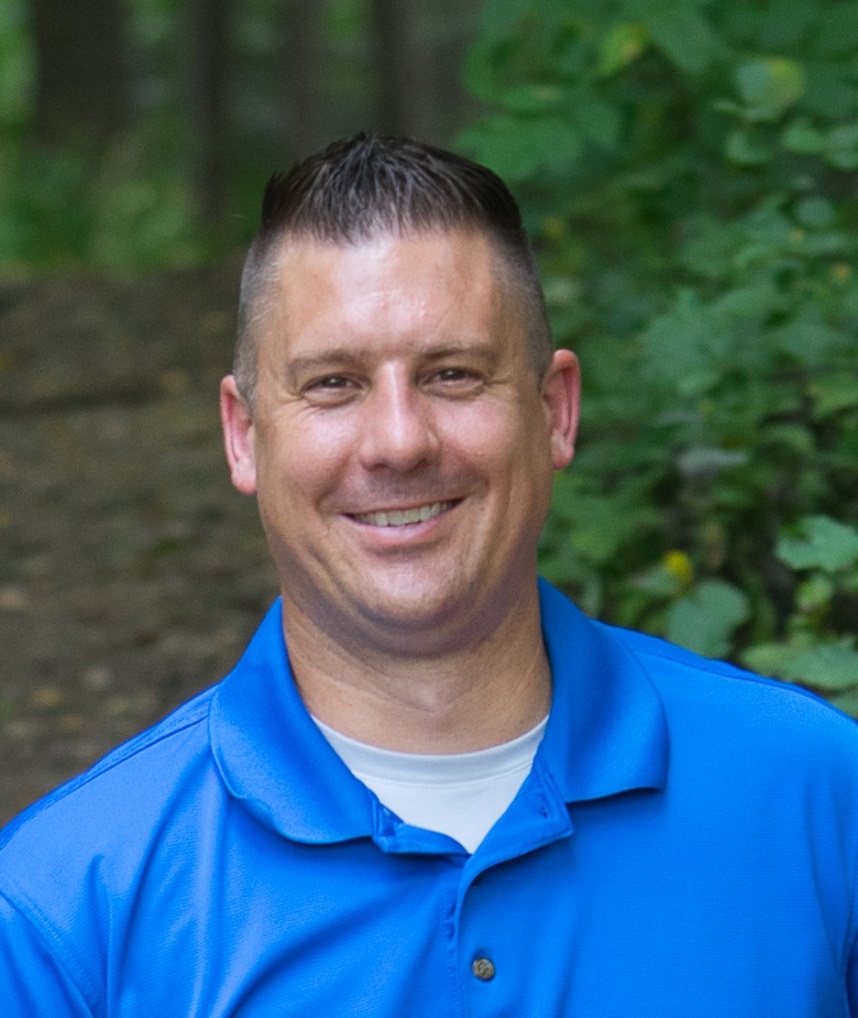 BRIAN HAGEN – CLASS OF 1993
Brian Hagen was a standout athlete in both soccer and basketball and was named RLHS Male Athlete of the Year in 1993. He was an integral part of three WISAA state runner-up teams: soccer in 1992, and basketball in 1992 and 1993. Brian was named the team Most Valuable Player in soccer, a two-time all-conference and all-county selection, and conference Player of the Year in 1992. He owns the school's single-season record with 27 assists. In basketball, he was also named conference Player of the Year his senior year, and he holds the school's career record for highest 3-point percentage. Brian continued his soccer career at UW-Platteville, where he was a four-time all-state college soccer selection and 3rd team Division III All-American in 1998. He finished his career scoring 51 collegiate goals and 29 assists, including a 22-goal, 9-assist campaign his senior year. These totals put Brian in the top-six single-season and career records in each category in UW-Platteville history. Brian played soccer professionally for six years including one season with the Milwaukee Wave. He returned to RLHS to coach the boys soccer team in 2000, and he has served as a youth coach for Racine United Soccer Club.
INDUCTED 2017
---
MARTY HARTWIG – CLASS OF 1975
Martin Hartwig was named the RLHS Christian Scholastic Athlete in 1975. He was a tremendous distance runner for the Crusaders. He was the WISAA state champion in both the 880 yard run and the mile run in 1974 and was the conference champion in both those events in 1974 and 1975. He broke the school records for the 880 and mile in 1974 and the two mile run in 1975 – records that still stand at the time of induction. Marty also was part of the inaugural cross country season in 1975 when he finished second in conference and sixth at the state meet. He also lettered in football for three years. After graduation he ran track and cross country at UW-Oshkosh. Marty served his community as a track coach and as a board member for the Cerebral Palsy Agency of Racine.
INDUCTED 2023
---
DAVE KRAUSE – CLASS OF 1962
Dave Krause graduated from Lutheran High as the 1962 Athlete of the Year for his
accomplishments in football, basketball, and baseball. He went on to Carthage College to play
baseball for Coach Augie Schmidt III and pitched a no-hitter in 1966. He earned his bachelor's
degree from Carthage in 1967 and earned his master's from the University of Northern Colorado
in 1972. Dave was a physical education teacher in the Racine Unified School District, a position
he held for 34 years. He coached tennis, football, and basketball at Horlick High School. He
was the head football coach from 1981-1984 and the head boys basketball coach from 1982-
2003. He compiled a 320-150 record as basketball coach. He led his teams to 10 conference
championships, 10 regional championships, three state appearances, and the WIAA Class A state
runner-up in 1985. Dave served as a board member for Racine Youth Sports and was chairman
of the basketball and baseball programs.
INDUCTED 2022
---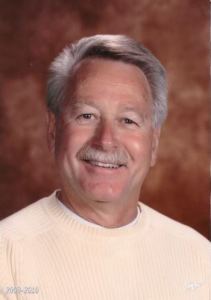 RANDY LOWE CLASS OF 1965, FACULTY and COACH 1975-1979
Randy Lowe graduated from Racine Lutheran in 1965 where he was a three-sport athlete and class president. He went on to attend Concordia, River Forest, to pursue the teaching ministry. After initially serving at Los Angeles Lutheran High School, he accepted a Call back to his alma mater in 1975. He taught English and was the head baseball coach at RLHS for four years. In 1979 he went to Concordia Academy in Minnesota where he served for 26 years. While there he began an exceptional administrative career marked by vision, dedication, and Christ-centered commitment. He became the principal at Concordia Academy and eventually moved to the position of chief administrative officer. He led two capital campaigns that resulted in greatly improved educational and athletic facilities. In 2005 Randy accepted a Call to be the chief executive officer of the Colorado Lutheran High School Association in Denver. While there he navigated the Association through a period of massive debt which threatened its existence. He was the treasurer of the Association of Lutheran Secondary Schools for several years and received the Paul Lange Award from that organization in 2007 in recognition of his exemplary leadership to Lutheran High School ministry. Randy's final Call was to be executive director of Vail Christian High School where, once again, he was challenged to lead the school through a substantial debt and declining enrollment. He was able to not only successfully save the school from foreclosure but also to help grow it into a thriving school of excellence. Randy retired in 2014 after 42 years of committed and faithful service in Lutheran school ministry.
INDUCTED 2018
---
BOB MALLWITZ – COACH 1994-2018
Bob Mallwitz joined the Racine Lutheran coaching staff as a JV football coach in 1994 and as JV baseball coach in 1995. He was promoted to head baseball coach in 1997 and led his first team all the way to win the WISAA Division 2 state championship. He led his teams to conference championships in 2003, 2011, and 2017 and was named Racine County Coach of the year in 1997, 2008, and 2017. In 2002, he successfully navigated the combining of the Lutheran and Prairie baseball teams into a cooperative program. "Coach Mall" was known as a coach who cared about his players on and off the field and considered them his "other sons." He continued to serve as an assistant football coach through the 2011 season. He retired as head baseball coach in 2018 after collecting 235 wins, making him the all-time winningest baseball coach in school history.
INDUCTED 2019
---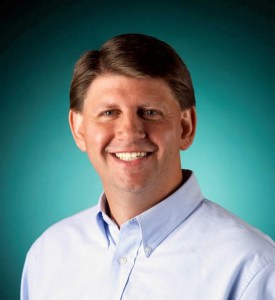 TIM NAEGELI – CLASS OF 1983, COACH 1990-96, 2010-16
Tim Naegeli was named the RLHS Male Athlete of the Year in 1983. He was a dominant basketball player for the Crusaders, being named All-Conference three times and the Racine County Player of the Year his senior year. He graduated as the all-time leading scorer in school history with 1,119 points and with the highest season scoring average of 21.1 points per game. At the time of induction, he still held the record of 31 rebounds in a game. Tim was the state champion in the high jump in 1982 and was a member of the 1981 and 1982 WISAA boys track state championship teams. Tim went on to be a basketball star at UW-Stevens Point. He graduated as the all-time leading scorer in school history with 1,649 points, and as the school record holder in career field goals made, games played, and steals in a season. His team was the NAIA runner-up in 1984 and won the conference championship all four years of his career. Tim was a three-time All-WIAC selection and was the conference Player of the Year in 1987, as well as UWSP's outstanding male athlete that year. He was selected by the Boston Celtics in the 1987 NBA Draft. He is a member of the UWSP Hall of Fame and was named to the WIAC Centennial All-Time team in 2012. Tim returned to RLHS as an assistant basketball coach for both the boys and girls programs and helped lead the boys to state titles in 1991 and 1995.
INDUCTED 2016
---
ERIC OERTEL – CLASS OF 2010, COACH
Eric Oertel was one of the best football players in Racine County history. As a sophomore, he was a first team all-conference and all-county defensive back. As a junior, he was a first team selection both at running back and linebacker, was team MVP, and was all-district running back, rushing for 2,056 yards and 25 touchdowns. Eric's senior year was very special. He broke the Racine County single-season rushing record with 2,731 yards and the career mark with 5,695. The single-season mark still stands at the time of induction, and he also holds the single game school record for rushing yards with 362. He was named all-conference player of the year for both offense and defense and was the 2009 Racine County player of the year. He also was first team all-state, co-offensive player of the year in the state, and won Wisconsin's Gatorade player of the year award, all while leading his team to the state semifinals and being named MVP. Eric also participated in track and field, qualifying for the state meet and being named team MVP in 2008. Eric earned a Division 1 football scholarship to Washington State where during his career played offense, defense, and special teams. He was named the special teams Co-MVP as a sophomore. After graduation he returned to Racine where he has served as a Mt. Pleasant police officer, a student resource officer at Case High School, a board member for Veterans Outreach of Wisconsin, a worship director at Hope City Church, and football assistant coach at RLHS.
INDUCTED 2023
---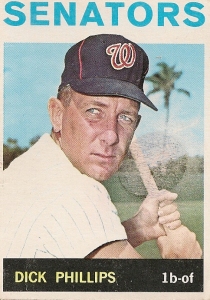 RICHARD "Dick" PHILLIPS – CLASS OF 1949
Dick Phillips received the foundation at Lutheran High which would propel him to a professional baseball career as a player, manager, broadcaster, and front office executive for five decades. As a Crusader, Dick starred in both baseball and basketball. Dick played for one year at Valparaiso University before signing on to play minor league ball in 1951. His baseball career was interrupted for three years as he served in the U.S. Marine Corps. The next 13 years would be spent playing for various minor league clubs. His major league debut took place in 1962 with the San Francisco Giants. Over the next five seasons, Dick would play in 263 games with the Giants and Washington Senators, mainly as an infielder. After a year as a radio commentator, he went into coaching. From From 1973 until 1983, Dick served as manager in the farm systems for the Minnesota Twins, San Diego Padres, and Milwaukee Brewers. In 1980, he was first base coach for the Padres. In 1984, he became the assistant general manager for the AAA Vancouver Canadiens where he served for 10 years.
INDUCTED 2010
---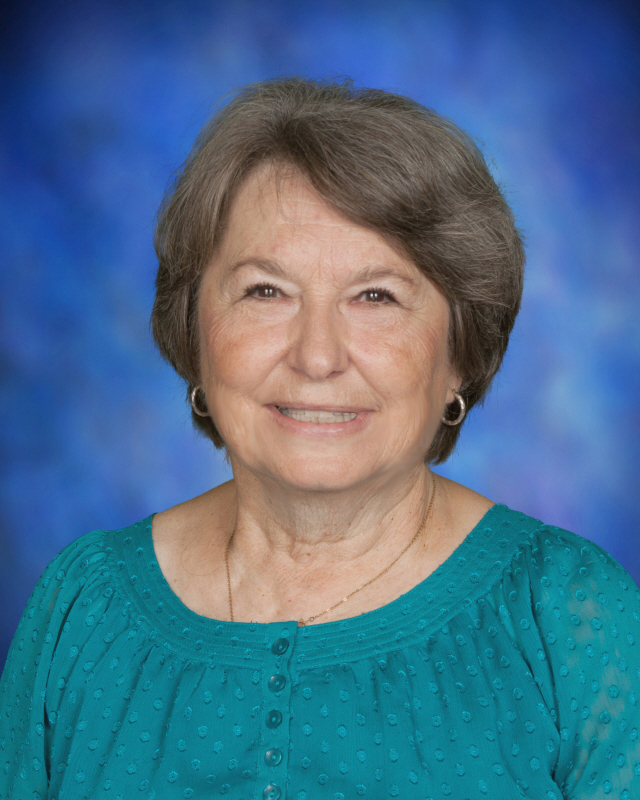 JULIE MEISSNER PORTER – CLASS OF 1967,
STAFF 1971-1973, 1982-2007, YEARBOOK ADVISOR
Julie Meissner Porter graduated from Racine Lutheran as Valedictorian in 1967. After completing a double major from Valparaiso University, she returned to teach at her alma mater for two years. After a stint teaching at Immanuel Lutheran, Manitowoc, she returned to RLHS in 1982 where she served faithfully as a science and English teacher for another 25 years. In addition, she served as advisor to the National Honor Society, school newspaper, environmental club, spirit club, and cheerleading. She helped organize the Honors Convocation for many years. In 1985, she began advising the production of The Citadel, the RLHS yearbook. As yearbook advisor, she devoted countless hours of her time teaching students skills in photography and graphic design. Her constant presence at school events, celebrations, activities, games, and practices resulted in taking thousands of pictures for the yearbook and documenting school history. It was a role she continued for many years after her retirement as a teacher. Julie also served the school in a volunteer capacity as the school auction chair and the president of the Ladies Guild. Her continued service in these capacities helped raise hundreds of thousands of dollars for the school. She met her husband Tom while she was a student at Racine Lutheran, and her three children Tim, Katie, and Sarah are all alumni as well.
INDUCTED 2023
---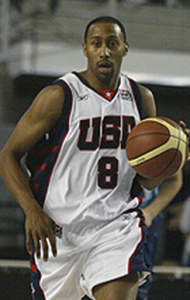 ALEX SCALES – CLASS OF 1996
Alex Scales was one of the all-time great basketball players in Racine Lutheran history. A three-year starter, he helped lead RLHS to WISAA state championships in 1995 and 1996. Alex averaged 14 points and 8.8 rebounds as a sophomore, 14.1 points and 5.8 rebounds as a junior, and 21.3 points and 10.1 rebounds as a senior. He was named all-conference and all-county his junior and senior years while the team went a combined 45-4 in those championship seasons. His senior year, Alex was named team MVP, Racine County Player of the Year, and first-team all-state. He then played two seasons at San Jacinto Community College in Texas, and later starred at the University of Oregon. In his two years at Oregon, Alex averaged 15 points per game and earned first-team All Pac-10 honors in 2000. He went on to play professionally overseas for 13 seasons, as well as in the CBA, the NBA Developmental League and USA Basketball. He was in NBA camps with the New Jersey Nets, Seattle Supersonics, and Houston Rockets, and made a regular-season appearance with the San Antonio Spurs in 2005.
INDUCTED 2017
---
GENE SCHNEIDER – FACULTY and COACH 1953-1968
Gene Schneider served as a physical education and science teacher from 1953-1968 and also was the school's athletic director from 1957-1968. He was the first head track coach at Racine Lutheran, starting the program in 1955, a position he held for four years. He became head football and boys basketball coach in 1957. He led the football program for 11 seasons, amassing a 44-41-4 record which ranks second in school history. In his eight seasons as head basketball coach, he had a 99-89 record. He also served as head baseball coach. In 1968 he became one of the founding faculty of Greendale Martin Luther High School where he was the first athletic director and started the football, basketball, and baseball programs. The Martin Luther football field bears his name honoring his coaching accomplishments. After moving to the role of assistant principal, he retired from the teaching ministry in 1992.
INDUCTED 2018
---
JULIE GRANT STRANDE – CLASS OF 1988
Julie Grant Strande was a four- year letter winner and team captain in both basketball and track and was named the Female Athlete of the Year in 1988. As a basketball player, she was a two-time team MVP and garnered 1st team All-Conference and 2nd team All-County honors. She graduated ranking among the all-time leaders in points and rebounds in Racine County, and at the time of induction was in the top five in career rebounds and steals at RLHS. Julie was a star track and field athlete, and at the time of induction still held four school records. She was named the outstanding athlete of the 1986 WISAA state meet, winning the 100m hurdles, long jump, and running with the state champion 4 x 100m relay team. She then went on to win the state title in the high jump in both 1987 and 1988. Julie was also a six-time conference champion and held both conference and state records in the 100m hurdles and the high jump. She was a two-time team MVP and was a 1st team all-county selection as well. Julie continued her track career at UW-Whitewater where she was a two-time national qualifier in the high jump. She was named to the All-WIAC 2nd team in the heptathlon and graduated with the school record in both the indoor and outdoor high jump and as a member of the 4 x 1000m hurdle relay team.
INDUCTED 2016
---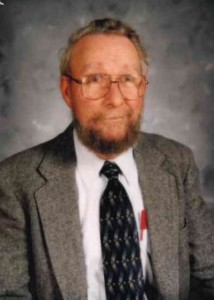 ROBERT TERTEL – FACULTY 1965-2001
Robert Tertel joined the RLHS faculty in 1965 as a math and science instructor after working as an electrical engineer. He was not only well-known for his vast wealth of knowledge but also for his ability to convey that knowledge to his students. He was noted as teaching students how to think, not just what to think. He was a scholar of the Scriptures who inspired students and helped them grow in their faith. He was named the RAMAC Educator of the Year in 1999. He was also well-known as a dedicated Christian leader, as evidenced by the many organizations he was involved with at the school. At various times in his career he led the Quiz Bowl, Spiritual Life Committee, Creative Club, Evangelism Committee, Service Club, was basketball coach, and served as math department head and faculty chairman. Mr. Tertel began the Junior Engineering Technical Society (JETS) team in 1992. This team won the state competition in 1992, 1993, 1994, 1995, and 1998. Those teams competed in the national championship as well and came home as champions in 1992, 1993, and 1998. In retirement, he continued to be involved in service at the school, most notably his commitment to working at the Racine Lutheran Thrift Shop.
INDUCTED 2019
---
DR. WILLIAM L. WALTERS – CLASS OF 1950
Dr. William Walters was valedictorian of Racine Lutheran's third graduating class. He was involved in activities such as basketball, swimming, and president of the bowling club. He went on to graduate from the University of Wisconsin-Madison in 1954 with a degree in applied mathematics and engineering physics. After serving in the U.S. Army from 1954-56, he returned to UW-Madison and earned both his master's and doctorate degrees in physics. In 1961 he became a physics professor at the University of Wisconsin-Milwaukee. In 1965 he became an administrator at UWM and held various positions, culminating in being named Vice-Chancellor (the school's second highest position) in 1971. During his tenure he recognized the need for UWM students to have public transportation and was instrumental in creating the U-BUS system to satisfy that need. In 1981 he returned to the classroom as a professor, where he focused on preparing future science teachers. He was honored in 1996 by the Wisconsin Association of Physics Teachers with a lifetime achievement award. In 2002 he was recognized by UWM with election to the Ernest Spaights Plaza, honoring his significant contributions to the growth and development of the university. He was a longtime member of Luther Memorial Chapel and held many leadership and service positions there. He entered his heavenly home in 2013.
INDUCTED 2019
---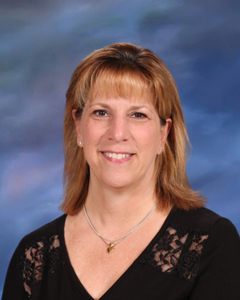 CHERYL LYNN BABEL WILKINSON – CLASS OF 1981
Cheryl Lynn Babel Wilkinson was an exceptional athlete throughout the early years of girls' sports at Racine Lutheran. She was a first team all-conference selection in volleyball and basketball, and twice in softball. She was also a two-time second team all-conference basketball player. Cheryl Lynn was a key player on several successful teams, including the 1979 state runner-up basketball team, the conference champion and state semifinalist basketball teams of 1980 and 1981, and the conference champion softball teams in 1978 and 1979. At the time of induction, she was the school's second all-time leading rebounder and held the single season record with nine home runs. She continued to serve Racine Lutheran after graduation as an assistant volleyball coach and received the Crusader Service Award in 2013 for her volunteer efforts. She has also faithfully served the students at Concordia Lutheran School for many years.
INDUCTED 2018
---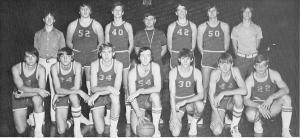 1974-75 BOYS BASKETBALL TEAM
Mark Mielke, Todd Borgardt, Steve Hartwig, Brian Hlavka, Mark Schaefer, Mark Primuth, Gary Knudson, Mark Ladd (Mgr.), Scott Borgardt, Rob Sytsma, Coach Willie Eickhorst, Paul Shebeneck, Thom Worland, Tom Siewert (Mgr.)
The 1974-75 boys basketball team was the first in Racine Lutheran High School history to win a state championship. Coached by Willie Eickhorst, the team recorded a 20-4 record and was the Midwest Preps Conference runner-up. In the postseason, they advanced to the WISAA Class B state tournament at the MECCA. After beating DeSales in the semifinal game, the team defeated JFK Prep 74-58 to earn the state title.
INDUCTED 2015
---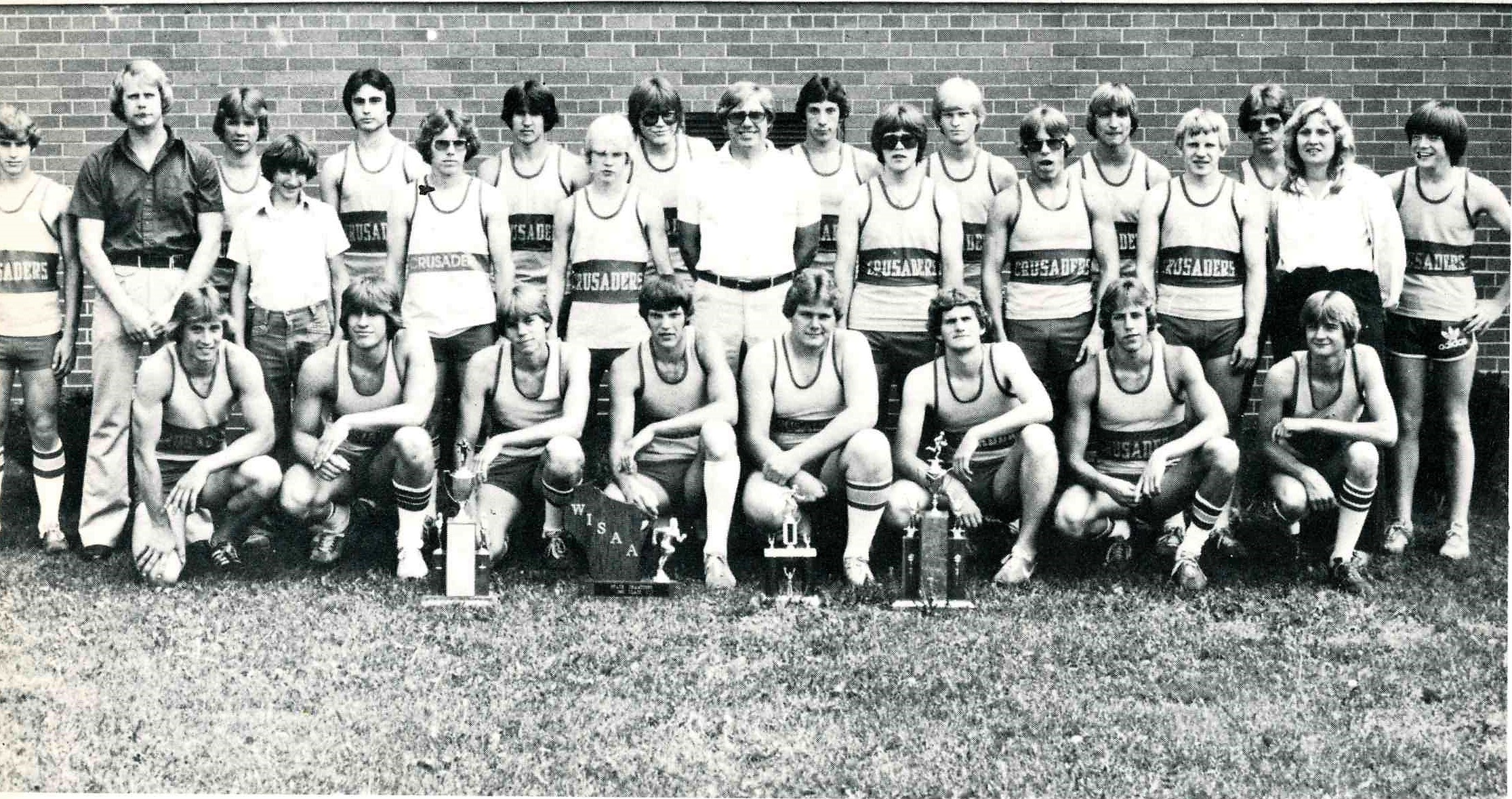 1980 Boys Track and Field Team
Front Row: Bill Heinze, Dan Bode, Steve Johnson, Rob Demuth, Scott Johnson, Daryl Geyer, Jon Bleeke, John Thierfelder. Middle Row: Bruce Dickerson, Coach Michael Carey, John Bates, Owen Wolff, Mike Lunow, Head Coach Dick Bode, Steve Geiss, Paul Clarke, Dan Hougard, Coach Katherine Voehl, Rob Needham. Back Row: Ross Ehrick, Dan Curcio, Tim Eckert, Phil Neumiller, Jim Mahnke, John Anderson, Dan Graves, Kirk Albright.
The 1980 boys track team won the first conference track title in school history. The team had state qualifiers in all but one event and dominated the WISAA Class C meet with 120 points over Beloit Catholic's 66. Paul Clarke was named the outstanding athlete of the meet after winning both the 1600m and 3200m runs. Kirk Albright scored 30 of the team's points, including winning gold in the 300m hurdles. John Anderson was a two-event champion in the pole vault and 110m hurdles. Rob Demuth set a state meet record in the high jump and also scored in the discus, shotput, and on the 1600m relay. The 800m relay team was a state champion as well.
INDUCTED 2020
---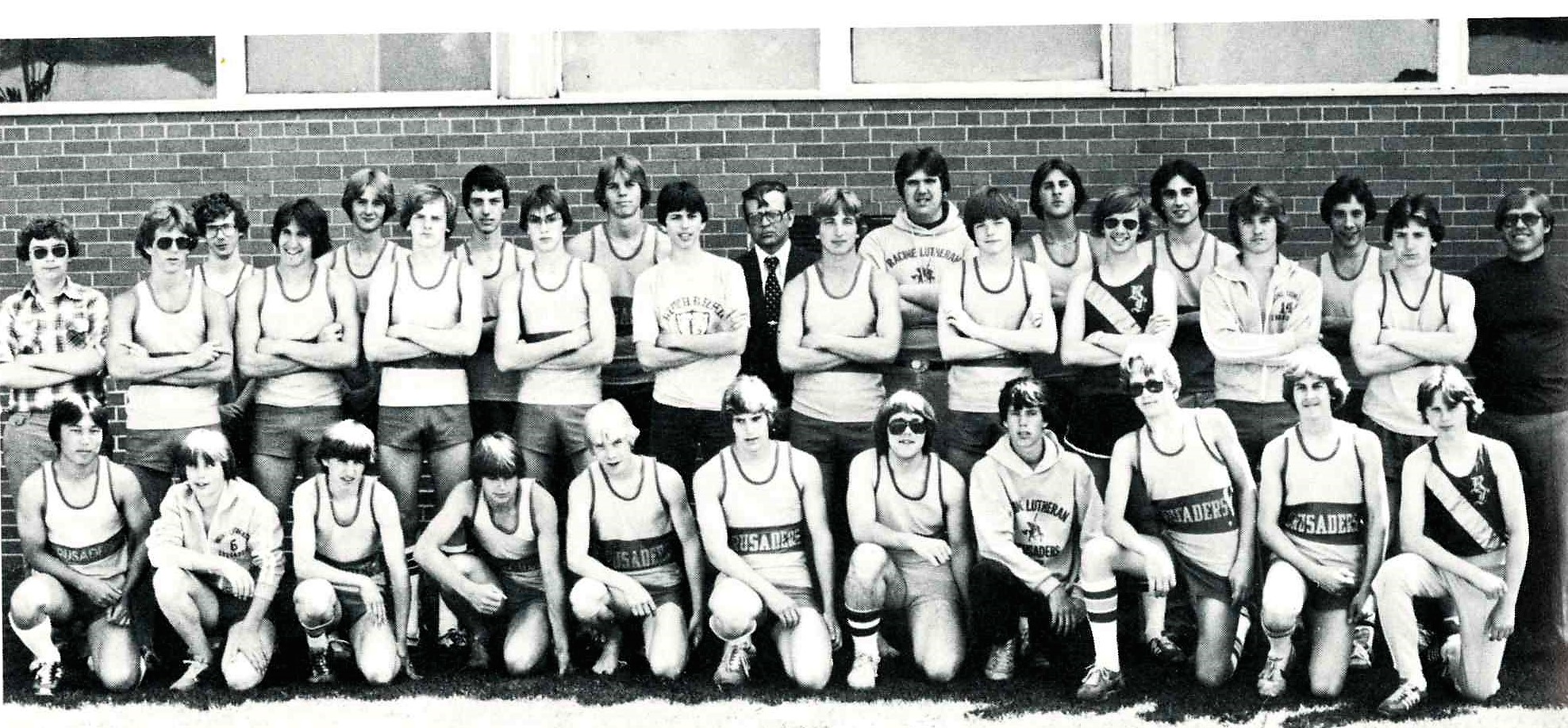 1981 Boys Track and Field Team
Front Row: Tony Kim, Chris Lunow, John Bates, John Naegeli, Mike Lunow, Bruce Dickerson, Steve Geiss, Keith Albright, Leif Lovdahl, Jim Catel, Todd DuBiel. Middle Row: John Engstrom, Kirk Albright, Tim Eckert, Doug Singstock, Todd Nommensen, Karl Meyle, Dan Graves, Rob Needham, Carl Chernouski, Ross Ehrick, Brian Piech, Head Coach Dick Bode. Back Row: Jeff Wernicke, John Thierfelder, Gary Rossman, Steve Johnson, Coach Gerald Michels, Steve Dodd, Jay Bertermann, Dan Curcio, Jim Mahnke.
The 1981 boys track team came to the WISAA state meet as defending champions on a rainy day at Milwaukee Lutheran. They faced a tougher challenge this time around, as they had fewer qualifiers than the previous year. Despite this, they won their second straight title, scoring 81 points ahead of University School's 57. Kirk Albright was the outstanding athlete, winning the 100m, 200m, and 300m hurdles and finishing third in the long jump. Rob Needham completed an undefeated season in the 110m hurdles as state champion. The defending champion 800m relay team garnered silver this time, adding to the championship point total.
INDUCTED 2020
---
1982 Boys Track and Field Team
Front Row: Keith Albright, Reece Ehrick, Steve Peel, Mike Lunow, Jeff Polky, Gary Rossman, Mark Kostiz, John Bates, Todd Seyferth, John Naegeli. Second Row: John Engstrom (Mgr.), Rob Needham, Steve Chovan, Tim Busarow, Doug Singstock, Dan Graves, Leif Lovdahl, Carl Chernouski, Bill Martin, Bill Olsen. Third Row: Jim Buehrens, Jim Catel, Jon Grant, Dave Sorenson, Bruce Dickerson, Gary Schultz, Mike Sterling, Steve Geiss, Ann VanKampen (Mgr.). Back Row: Dan Curcio, Coach Gerald Michels, Karl Mayle, Steve Larsen, John Thierfelder, Jay Bertermann, Tim Naegeli, Steve Johnson, Dan Long, Craig Blaesing, Todd Nommensen, Head Coach Dick Bode (Not Pictured: Ross Ehrick).
The 1982 boys track team won the school's third consecutive WISAA meet in dramatic fashion. The team trailed Wayland Academy by 7.5 points going into the final event, the 1600m relay. That relay team not only won the event to give the team the thin 97-95.5 margin, but also set a state meet record in the process. That performance has remained a school record at the time of induction. Rob Needham was the most outstanding athlete of the meet, winning the 110m hurdles (state meet record), 300m hurdles, long jump, and was the anchor of that championship 1600m relay team. Tim Naegeli was state champion in the high jump, tying the state meet record. Mike Lunow was crowned state champion in the 1600m run as well.
INDUCTED 2020