Let's Get Acquainted
We invite prospective student and parents to attend an Open House or arrange a personal tour with the Admissions Director. Our 2023-2024 school year open houses will be held on Monday, October 16th from 5-7 p.m. and Monday, January 29th from 5-7 p.m. Learn how Racine Lutheran prepares students for college, careers, and a lifetime of service to God and man. As we begin this journey, we talk about each teen's academic goals and extracurricular interests. Application materials and instructions are provided at the tour.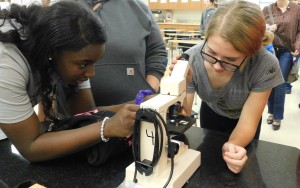 Apply
Submit all application materials to the Admissions Director, who gathers required records, references and other documents for review by our Executive Director. We are happy to guide you through this process.
We Want You!
Prospective students whose applications are accepted for admission commit to attending Racine Lutheran High School. To secure the reserved seat, the contract and deposit are requested within two weeks of notification.
Schedule Classes
Incoming students meet with school officials to schedule classes prior to enrollment. Placement tests are administered on an individual, as-needed basis.
Congratulations!
Be a Crusader and achieve your highest potential.
To keep informed about Admissions events, visit and like our Facebook page for fun photos and postings. This will help you connect with your new school and classmates!